The main interface of the software consist of some windows( PVM, Outputs, PGM, Waiting Area, Transition , Library/Mixer and Status Bar).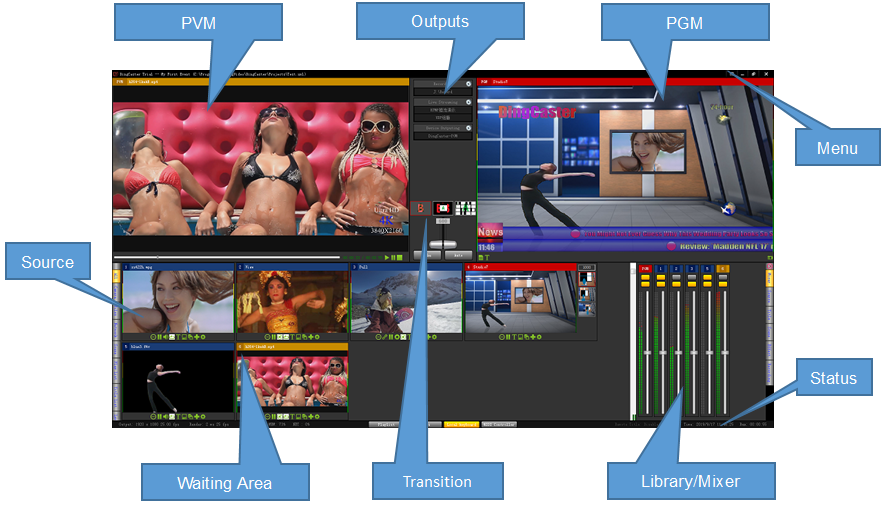 PVM Window
When click on a source window in Waiting Area, it will be enlarged and displayed in PVM . Click on the Take or Auto button in the Transition window to switch this source from PVM to PGM.
PGM Window
The final output is previewed here. All output is consistent with this window.
Waiting Area
Waiting Area displays and controls all source participating in broadcasting. Sources are dragged and added from the Library window.
Library/Mixer Window
Including Mixer, Sources Library, Title, Scene, Effect, Recording and so on..
The Mixer window adjusts the volume and mixing of the input and the PGM.
The Source Library window includes Video,Audio,Picture, Slide,Device and Network.
The Title window displays a list of titles.
The Scene window includes Virtual Studio, Multi-screen and Other.
The Effects window displays a list of available effects.
The Recording window displays a list of recorded material.
Transition Window
Includes currently used effects, T-bar and other content, can achieve direct switching or effect switching from PVM to PGM.
Output Window
Set up and control all signal outputs, including recording, live streaming and device output.
Status Window
Display output format, resource usage and other information.